1930 Model A "WOODIE" SURF WAGON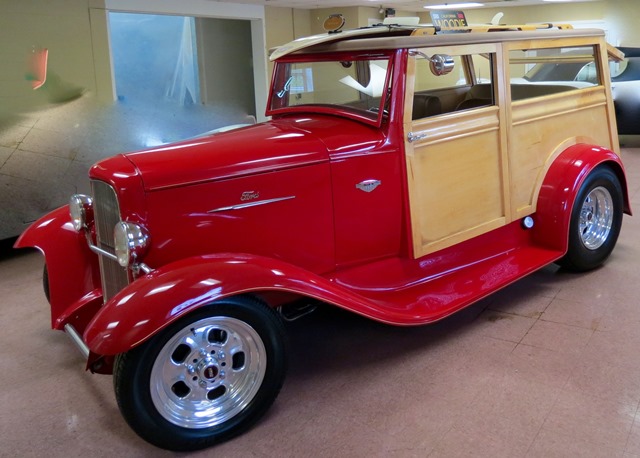 A Woodie is a car body style with rear bodywork constructed of wood framework with infill wood panels.
The Woodie is:
Custom Built all Steel Ford Model A Street Rod
Body is fabricated from Solid hard maple Wood
2'' Chop Top/Windshield Laid Back 23/4'' / Hinged Topper
All Steel Fenders, Running Boards, and Splash Aprons
Hagan 1 Piece Hood + Steel Side Panels
Hood is Hinged to Open from Both Sides + Also Removed
Suicide Hinged Doors For Easy Access In and Out
Dual Fuel Tanks w/Switched Over Toggle Below Dash
Mohave Heater Supplies Heat for Cooler Days
Hartz Cloth Padded Top
Chassis is a Z'd and Boxed Model A Chassis
TCI Polished Stainless Steel Independent Front Suspension
Chrome Spindles and Polished Disc Brake Calipers
Rack and Pinion Steering
Q A 1 Carerra Polished and Adjustable Shocks / Chrome Springs
Rear Suspension Polished Stainless Steel Four Bar
Power From A 302 Ford Stroked to 347 cu in
Lunati Camshaft / Hi-Volume Oil Pump
Barry Grant Modified Demon Six Pac
Plenty of Power / 400 H.P. Plus 18 mpg
T-5 5 Speed Transmissions to 411 Gear
EZ Supplied Wiring Harness
Aluminum Two Row Radiator w/1 Tubes / Electric Fan
Weld Racing Rod Light Polished Wheels
See A YouTube Video of This Car.